Naturally Perfect® Wood Protection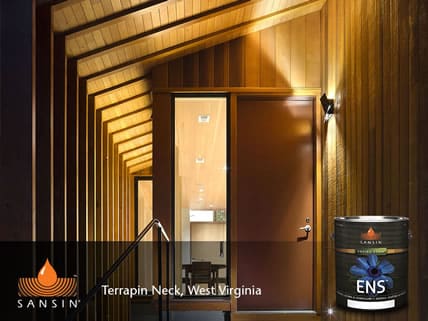 Award winning Terrapin Neck house utilized Sansin's SDF and ENS Naturals Topcoat to protect and beautify the Douglas Fir exterior delivering a warm, rich hue – and enjoyment for years to come.

Play ball this season at the Twins stadium and check out Sansin's Resolution system on their seatbacks. Resolution is a marine grade finish for brilliant clarity combined with chemical, scratch and water resistance.

Projects of the Month
Sansin is proud to be featured on wood projects and buildings around the world using our water-borne, penetrating interior and exterior wood treatments, stains and finishes.SEE MORE >>

Wood Sealer
Durable, naturally weathering two-coat finish with tough UV protection and resistance to wear.
SEE MORE >>

Classic
Specially formulated, penetrating finish for log homes and timber-frame structures.
SEE MORE >>

ENS
Durable, beautiful two-coat finish with tough UV protection, excellent adhesion and resistance to wear.
SEE MORE >>