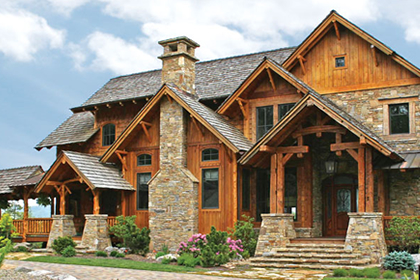 Beautiful wood protection for log home exteriors.
Every log home is completely unique – which is why Sansin has a whole family of exterior products to choose from. For example, Classic is a beautiful 3-coat penetrating stain system designed specifically for big timbers and logs that delivers outstanding performance and beauty even in moisture-rich environments. SDF is a one-coat system that offers complete protection and is easily maintainable. ENS, on the other hand, is a barrier coat that provides exceptional UV resistance – perfect for south-facing exposures even in harsh desert conditions. Or combine a penetrating undercoat with an ENS topcoat for the best of both worlds.
Every home is unique.
Whatever the requirements of your project, Sansin has an Enviro Stain that will deliver the exceptional beauty and performance your home deserves. Scroll down for an overview of our family of log and timber protection products or get inspired by browsing the Photo Gallery below for examples of beautiful log home projects featuring Sansin Enviro Stains.
ALL EXTERIOR FINISHES PRODUCTS
---
SDF
Penetrating one-coat finish for exterior wood.
Exceptionally versatile protection for siding, logs, decks and fences. Beautiful, durable, highly water-repellent, breathable and UV-resistant.
SDF Topcoat
Enhanced protection in either clear or solid color.
For additional protection, top coat with this clear base tinted to your project specifications. Enhances base coats with a more saturated, finish in either clear or solid color formulas.
EXTERIOR FINISHES PHOTO GALLERY
---