Protect your exterior furniture – the naturally perfect way.
Nothing brings your deck to life like beautifully finished furniture. Sansin offers a range of choices: Classic is a deep-penetrating finish that delivers a superior oil-like finish for teak furniture; SDF is a beautiful one-coat penetrating finish that is easy to apply and maintain; and ENS is a two-coat barrier finish that offers exceptional UV protection. As penetrating formulas, both SDF and Classic deliver a rich, low-lustre finish. ENS may be used as a top-coat for either system and delivers a rich, lustrous finish that amplifies or hides the grain of your wood depending on whether you prefer a transparent or solid-hide system.
Available in almost a hundred stunning colors.
Get inspired by browsing the Photo Gallery below for examples of beautiful furniture projects featuring Sansin Enviro Stains – or explore colors to get ideas for your own project!
ALL FURNITURE PRODUCTS
---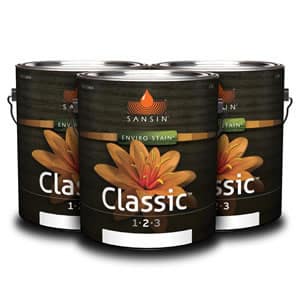 Classic System
High-performance penetrating system for log homes.
Penetrating environmentally-friendly three-coat system designed for big timber and logs in exterior applications.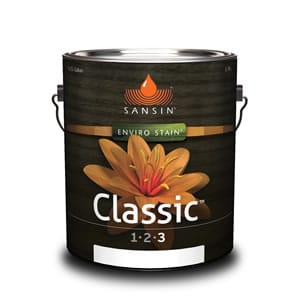 Classic Top Coat
Delivers a highly water-repellent finish and maintenance coat.
Use over existing Classic finishes as a durable maintenance coat for additional water repellence and beading.
EOS
Beautiful low lustre water-borne wood finish.
Exceptionally versatile protection for siding, logs, decks and fences. Beautiful, durable, highly water-repellent, breathable and UV-resistant.
FURNITURE PHOTO GALLERY
---