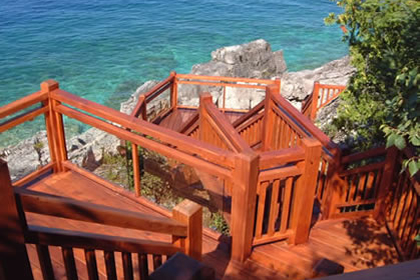 Enhance the beauty of your deck with Sansin's penetrating Enviro Stains.
One of the first decisions you need to make when choosing a deck finish is what look you want. Sansin SDF and Dec both deliver a beautiful low-lustre finish that is easy to maintain and highly breathable. For a higher-lustre finish – and extreme UV protection – use Sansin ENS as a standalone system or as a topcoat.
Whether you're re-finishing your deck or protecting a brand-new one, Sansin's family of deck products delivers – in any climate. In a four-season environment with frequent freeze/thaw cycles, the penetrating power of Dec and SDF provides exceptional beauty, durability and ease of maintenance. For additional UV protection, topcoat with Sansin ENS to extend maintenance cycles – especially in southern climates. ENS also performs well as a standalone product, with a high level of finish, and legendary durability and water-repellency even on exotic woods like ipe or jatoba.
Protection that won't crack, peel or blister.
Get inspired by browsing the Photo Gallery below for examples of beautiful deck projects featuring Sansin Dec, SDF and ENS.
ALL DECK PRODUCTS
---
SDF
Penetrating one-coat finish for exterior wood.
Exceptionally versatile protection for siding, logs, decks and fences. Beautiful, durable, highly water-repellent, breathable and UV-resistant.
SDF Topcoat
Enhanced protection in either clear or solid color.
For additional protection, top coat with this clear base tinted to your project specifications. Enhances base coats with a more saturated, finish in either clear or solid color formulas.
DECK PHOTO GALLERY
---