For biggest public investment in Quebec City's history, wood is selected for its aesthetic, environmental and economic benefits.
FACT #1
GLULAM OFFERS DESIGN FLEXIBILITY
FACT #2
KP-12: PROTECTIVE UNDERCOAT
FACT #3
WOOD SELECTED AS RENEWABLE BUILDING MATERIAL
FACT #4
PURITY CLEAR: BRILLIANT INTERIOR FINISH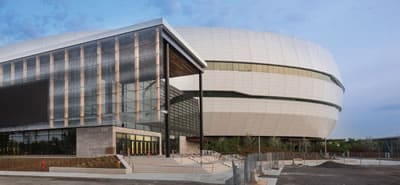 The New Quebec City Amphitheatre, also known as the Videotron Centre, is a new multi use indoor arena in Quebec City, Quebec. It occupies approximately 64,000 square meters (689,000 sq. ft.) of space and has a capacity for 20,396 people for non-sporting events and 18,259 spectators for hockey games.
Unveiled in 2015, the US$400 million, seven-story arena fits into the city's strategy of supporting sustainability projects. The facility is currently in the process to achieve LEED Silver certification. It has a dual-structural system consisting of ductile concrete walls and a steel frame, but wood plays an important role not only in the Amphitheatre's sustainability, but also in its structural integrity, performance and beauty.
Francois Moreau, CEO of ABCP Architecture, a firm internationally known for its sustainable design and certified by the Canadian Green Building Council (CaGBC), explained his design for the Amphitheatre, saying, "The number one motivation for using wood in the Amphitheatre was to give the building a distinctive local signature and foster the quality of the interior spaces." He added, "However, given the structural capacity and fast construction time required for this type of building, wood also proved to be an economical choice. The environmental benefits of wood were another reason for choosing this material."
Moreau explained that although many materials such as concrete and steel are recyclable, wood is the only renewable building material and takes very little energy to harvest and process compared to other materials. In addition, wood timber is a carbon sink, a natural reservoir that accumulates and stores carbon dioxide. "So, every cubic meter of wood used offsets one ton of greenhouse gas emissions," Moreau noted.
Coating for Protection and Beauty
Proper protection to maintain the durability and aesthetic performance of wood in building construction is critical, but the importance of the first coat cannot be overstated. At the Quebec City site, for example, environmental conditions can be daunting, with long periods of cold from the arctic air. Sansin's high performance, water-borne, environmentally friendly wood finishes were used, with KP-12 used as a protective undercoat prior to construction, ensuring stability, UV and moisture protection. For the interior, Sansin's Purity Clear created a brilliant finish. Sansin finishes were selected to complement the coloration of the wood and were recommended by Cecobois, a regional program of the Québec Forest Industry Council whose goal is to support innovation and provide leadership on the use of wood and wood products.
The Amphitheatre's design is part of a growing trend in building design, as Glue Laminated Timber (Glulam) is becoming a desired option for large structures. Beyond aesthetic and environmental considerations, wood structures are now competitive options. For one, wood has virtually infinite building possibilities given its ability to be shaped into curves.
"Architects and engineers are starting to see the full potential of wood as evidenced by media coverage in many local and international publications," stated Moreau. Moreau believes it's the responsibility of design and construction professionals to educate their clients of the myriad possibilities wood has to offer.
The Quebec City Amphitheatre is the biggest public investment in Quebec City's history. The developer's trust in wood design demonstrates their foresight and stands as a world-class example for building structures of all sizes, shapes and functions.
About KP-12 and Purity Clear
KP-12 is an outstanding penetrating protective undercoat for timbers, dimensional laminated lumber and engineered wood components like CLT and Glulam that enhances dimensional stability and protects wood from UV degradation and moisture absorption. Of note, KP-12 allows subsequent coats to penetrate into the wood nicely, versus other undercoats that act as sealers.
Purity Clear is an excellent high-solids finish that enhances the natural tone and character, especially for light colored woods – like pine and cedar – where a warm, mellow tone is desirable. It is UV resistant, washable, environmentally friendly, and low in VOC's.
SHARE:



PRODUCTS USED IN THIS CASE STUDY
---
Purity Clear
A two-coat finish that enhances the natural warmth of wood.
Beautiful topcoat finish that enhances the natural tone and character of wood. Ideal for wood walls, doors, windows and furniture.