Sansin Announces Resolution: High Performing, Wood Finishing System
The Sansin Corporation, a global leader in environmentally friendly wood protection, announced the launch of its Resolution two-part wood finishing system. Designed to be tougher, more beautiful and longer-lasting than varnish, it can be used on furniture, doors and other marine and land-based applications where UV resistance and moisture protection are a must.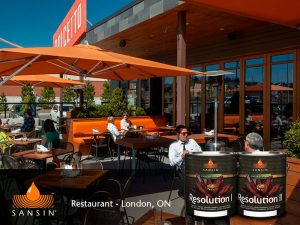 "This is an exciting product.  The Resolution system delivers brilliant clarity combined with chemical, scratch and water resistance – all in a low-VOC, easy to apply gloss or satin finish,"  said Sjoerd Bos, Managing Director at Sansin.
Resolution I is the first step in the two-part, environmentally-friendly NGR (Non-Grain Raising) high performance wood finish system. As the primer step in the Resolution finishing system, Resolution I may also be used as standalone protection for wood interiors. Resolution I is a high solids finish that penetrates and fills wood grain with deep UV and moisture protection.
Resolution II is the second step in the system, offering a crystal-clear low-VOC finish available in gloss or satin formulas.
About Sansin
For over 25 years, Sansin has been the only wood protection company focused exclusively on researching, developing, and introducing environmentally-friendly, 'water-borne' interior and exterior wood products and technologies that deliver outstanding color, durability and performance without the toxicity found in conventional stains. Sansin Enviro Stains use water, not oil, to deeply penetrate and protect wood naturally, from within. Headquartered in Ontario, Canada, Sansin has dealer locations across Canada and in the U.S. To learn more about The Sansin Corporation, or how to become a Sansin preferred dealer, visit www.sansin.com.
# # #