Project of the Month
Sansin Finishes Create Gradient Effect for Award-Winning Building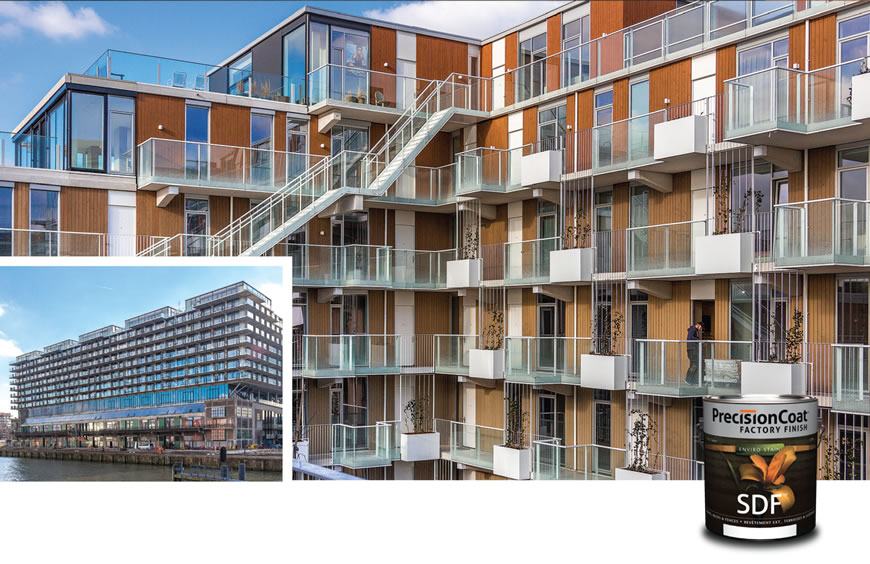 NATURALLY PERFECT® WOOD PROTECTION
The Fenix I is an iconic, historic building in the South Holland city of Rotterdam that recently underwent a major renovation to create 484,375-square feet of mixed-use space. Designed by architect C.N. van Goor to merge old and new, the immense building houses 212 new loft apartments which are clad with warm wooden facades out of Douglas Fir, facing a tranquil inner courtyard. The cladding is protected with Sansin Precision Coat SDF in a range of custom colors to create an ombre effect. To play off the varying levels of sunlight entering the courtyard, several custom formulas were developed from opaque white to transparent, creating a warm, gradient effect along the entire span of the wood façade from the bottom to the top of the inner courtyard. Sansin's signature Precision Coat SDF wood protection and unique color system delivered the flexibility and performance needed to showcase this unique structure, while at the same time contributing to the sustainable nature of the overall project. Sansin's European Partner, Leegwater Houtbereiding, worked with the designers to create just the right shading effect on the building.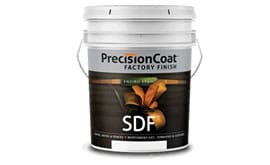 Precision Coat SDF
A penetrating one-coat finish for exterior wood.
Precision Coat SDF provides tough, effective protection for wood siding.