A beautiful lakeside log and timber home is protected inside and out with Sansin.
FACT #1
704 PIECES OF SPRUCE GLULAM TIMBERS
FACT #2
SANSIN SDF OUTSTANDING WEATHER & UV PROTECTION
FACT #3:
LEGACY HOME STANDS TEST OF TIME WITH SANSIN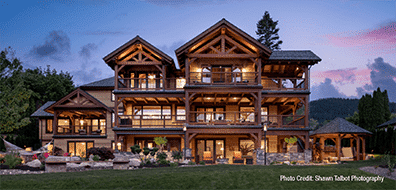 This magnificent home, which is located on the shores of Okanagan Lake near Vernon, British Columbia, was built for an owner who really knows and appreciates wood. He owns sawmills in Alberta and wanted his lakeside estate to feature as much wood as possible. He picked two signature logs from his own mill to stand at the entrance of the home. The remaining spruce glulam timbers and cedar tongue and groove woodworking were sourced by European Timberframe Corp, which has been exclusively using Sansin coatings since 2015.
For this project, European Timberframe factory-applied two coats of Sansin SDF in a custom color to the timbers and tongue and groove woodworking that is featured inside and outside the home. The company's team of Swiss and German-trained builders have a reputation for delivering stunning custom timber frame homes of exceptional quality to clients in North America since 2008.
"Our goal is to build the kind of timber frame homes that generations of families have enjoyed for centuries in Europe," says European Timberframe owner Daniel Kilchenmann. "When you're building these legacy structures with this kind of long-term thinking, you want to make sure you only use the best products that will stand the test of time, and Sansin never lets us down."
Kilchenmann adds that his company values the range of color tinting available for Sansin coatings. "You can get any color you want with Sansin, while other companies are limited. We always create samples for our customers with the color codes on the back of the wood panels, and we have a really cool collection of Sansin colors to share with our clients now."
An Investment in Wood
This home is a showcase of wood and features 704 different pieces of spruce glulam timbers, which equates to 24,600 board feet of timbers and a total surface area of 14,000-square feet. There are an additional 4,000-square feet of cedar tongue and groove planks. The spruce glulam timbers were imported from Austria to ensure the highest quality.
"If we built everything out of local Douglas fir, we would simply run out of trees," explains Kilchenmann. "By using glulam, we can cut the wood from much smaller trees, which gives us nearly limitless options with what we can do with the wood." He adds that the wood is kiln-dried, resulting in timbers that are incredibly stable, meaning fewer cracks, twists and checking.
European Timberframe applies Sansin in its factory. "We have an applicator who is simply the best and does all of our staining piece-by-piece by hand," Kilchenmann describes. "The color of the spruce is very light and uniform, so the coating looks very even and once applied it makes it hard to see that the timbers are laminated."
Sansin SDF: A Superior, Penetrating Finish
Sansin SDF provides lasting protection and brings out the beauty of wood. Its specially formulated oils and resins penetrate the wood, providing outstanding weather and UV protection in a wide range of natural, semi-transparent and even solid colors. Not only does SDF protect the outside of the wood, it also protects the inside by allowing the wood to "breathe", which helps prevent moisture from getting trapped in the wood and causing rot.
About European Timberframe Corp.
European Timberframe Corp was co-founded by Daniel Kilchenmann who is a native of Switzerland. The company is built on two cornerstones: a commitment to timberframing with European quality and service, and the best and highest grade of materials you'll find anywhere. "We want to build homes that last for generations, homes where memories are made!" says Kilchenmann. The company purchases Sansin's products from retailer Decorworld Paint & Window Coverings in Vernon.
ABOUT THE SANSIN CORPORATION
For 35 years, Sansin has been the only wood protection company focused exclusively on researching and developing environmentally-friendly, water-borne interior and exterior wood products and technologies that deliver outstanding color, durability and performance without the toxicity found in conventional stains. Sansin wood treatments, finishes and preservatives use water, not petroleum solvents, to deeply penetrate and protect wood naturally, from within. Headquartered in Ontario, Canada, Sansin has offices in the Netherlands and Rhode Island and dealer locations in Canada, the U.S., Europe and Australasia. To learn more about The Sansin Corporation, or how to become a Sansin preferred dealer, visit www.sansin.com.
SHARE:



PRODUCTS USED IN THIS CASE STUDY
---
SDF
Penetrating one-coat finish for exterior wood.
Exceptionally versatile protection for siding, logs, decks and fences. Beautiful, durable, highly water-repellent, breathable and UV-resistant.