The Sansin U Experience – Learning That Impacts Your Bottomline
February 2023
Where:
Sansin America – Rhode Island 
Arrival: Providence Airport (PVD)
Hotel: TBD
When:
February 15th and 16th
February 21st and 22nd
*Due to high demand, only one participant per store. A second participant can be requested but they will be waitlisted until further notice from Sansin staff.
RSVP to marketing@sansin.com. A Sansin representative will follow-up to provide more information and to confirm your spot. Hurry, space is limited!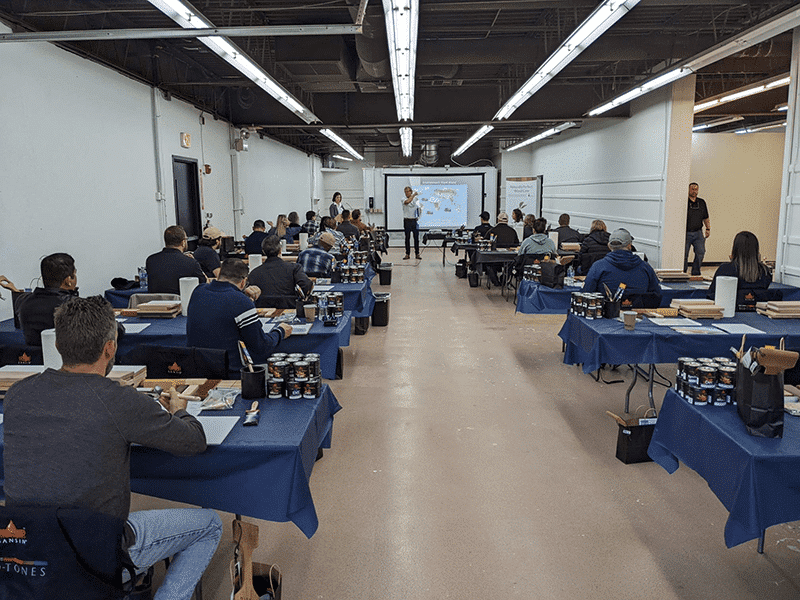 Sansin University (Sansin U) is an in-person learning experience that helps Sansin's retail, architectural and commercial customers understand best practices on the preparation, application and maintenance of Sansin wood finishes.
After attending Sansin U, attendees are better equipped to increase product sales and give their business a competitive edge.
What you will learn
It all starts with the science behind wood protection. Once you understand the natural properties of wood, one can better understand the keys to protecting wood from weathering and how to balance protection with aesthetics.
Get ready to:
Experience intensive workshops + hands-on demos to try Sansin products from interior and exterior finishes and topcoats to fire retardant finishes and specialty treatments.
Meet colleagues in your field – from architects and log and timber builders to Sansin dealers and prefinishers.
Swap stories, share best practices, and gain friends for life!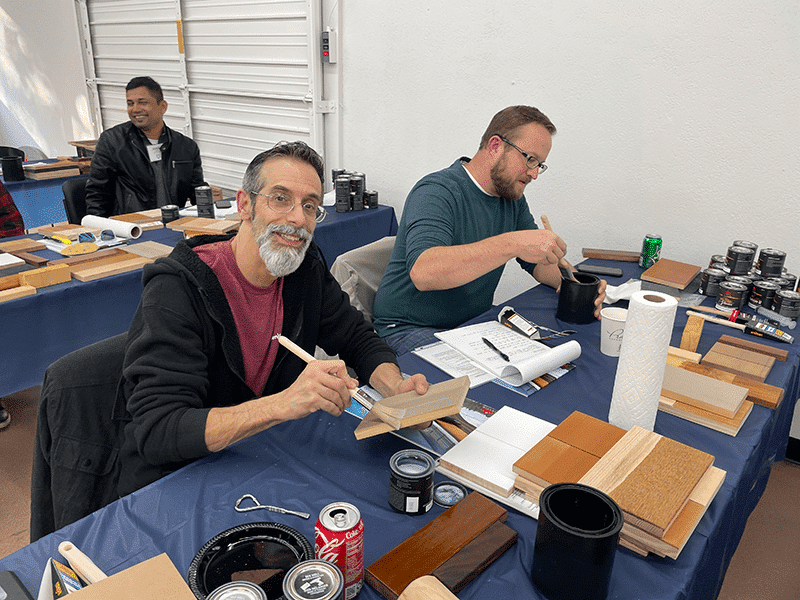 Why Sansin U?
At Sansin U, you will never be bored! Sansin U combines in-class learning with plenty of hands-on application.
Learn:
Key principles behind prepping and preparing surfaces
How wood species and design impacts results
Correct application of interior and exterior Sansin products
Techniques and tips for colour formulation
And much more…
What People Are Saying
Don't just take our word for it. Here's what a few recent Sansin U grads have to say about their experience:
"Sansin U provided an unparalleled opportunity to enrich and expand my knowledge of the Sansin products. Our business has carried Sansin for many years, so the opportunity to both reaffirm our existing practices and to learn new methodologies of problem solving and product specification has greatly increased the value of the product line and was deeply enjoyable."

Joshua Gray, Gray's Paints (Sansin Dealer)
"I really liked that we were able to do the hands-on labs, it helped me see a few different ways of application. I learned about all of the other product lines Sansin carries and how to apply them correction, which will broaden our scope of work on many jobsites. Sansin has such an amazing staff. They were all so helpful and quick to answer any of my questions. I did not realize all the information I was going to receive and how much it would help boost the learning curve for some of the products."

Joshua Gray, Gray's Paints (Sansin Dealer)
"My favorite thing about Sansin U was learning from the other attendees. The group was very diverse as far as Sansin needs and uses. It was great being able to discuss issues, application methods, best practices and concerns with people from a variety of different backgrounds. I would definitely recommend Sansin U to others and plan on having my employees attend later sessions. The knowledge provided at the session and the hands-on application was extremely valuable."

Owen McAdams, Devine Paint Center (Sansin Dealer)