Toronto's Grange Park playground won the 2017 Wood Design & Building Award hosted by Wood Design & Building magazine.  The Wood Design & Building Awards is the only program to award excellence in architecture in which wood plays a significant role.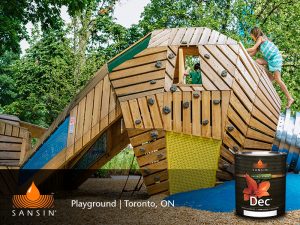 The art-themed destination playground, jointly owned by the Art Gallery of Ontario and the City of Ontario, mimics an artist's bustling studio with climbable, larger than life art tools (a paint can, paint tube, charcoal pencils and painter's palette). Wood was chosen to allow customization/creativity, invite touch, and replicate the experience of play in the natural world.
Sansin: Provided Sansin DEC, which was selected for its performance, environmentally friendly benefits, and for its ease of use, and maintenance.
Other contributors include:
PFS Studio – Prime Consultant & Lead Designer (Park and Playground)
Art Gallery of Ontario – Owner/Developer
Earthscape – Playground Design & Build
thincdesign – Local Landscape Architect
Ninth Street Photography – Photographer