More than 462 glulam beams are the signature feature at Hayward Field, a reimagined "theater" for track and field events.
FACT #1
MORE THAN 462 DOUGLAS FIR GLULAM WOOD PIECES
FACT #2
LONGEST GLULAM BEAM MEASURES 55 FEET BY 10 INCHES LONG
FACT #3
KP-12 UVW: FACTORY-APPLIED PENETRATING UNDERCOAT
FACT #4
PRECISION COAT ENS: TWO COATS FOR SUPERIOR WATER REPELLING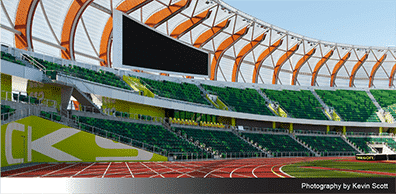 Completed in 2020, the reimagined Hayward Field at the University of Oregon in Eugene is a "theater" for track and field events, including the 2020 U.S. Olympic Team Trials and the 2022 World Athletics Championships. Funded by gifts from Penny and Phil Knight, Nike co-founder, and more than 50 other donors, the 12,650-seat stadium was designed by SRG Partnership and built by Hoffman Construction. Working in collaboration with the architect and builder, the Sansin Corporation and Western Archrib were integral in bringing the stadium's signature Douglas Fir glulam structural wood pieces to life.
Mass Timber, an Iconic Choice
Mass timber was selected to showcase Oregon's history, culture and timber industry. More than 462 Douglas Fir glulam structural wood pieces were used to create 77 unique curves, each containing six pieces of bent wood. The iconic wooden roof canopy was sourced by Western Archrib and protected with Sansin's low-VOC architectural finishes.
Sansin's Coating System: Durable & Beautiful
Sansin worked with the team to develop a comprehensive coating system that would bring out the character of the glulam pieces, while also providing maintainable protection from UV and moisture. A three-coat system from Sansin in a custom Golden Wheat color was chosen for its durability, beauty, and environmental profile. KP-12 UVW tinted to Golden Wheat is the first coat, offering a penetrating undercoat that helps to dimensionally stabilize the massive pieces of glulam and moderate water uptake while allowing the wood to breathe. This first coat also kicks off a three-layer strategy to build strong UV protection across the system.

The second and third coats comprise Sansin's exterior clear topcoat, Precision Coat ENS. ENS is highly water repellent, building a breathable barrier. Sansin worked closely with the architectural team to develop a finish system that led to the beautiful final color, while maintaining clarity through to the wood grain. Prefinishing the glulam with two coats of the Sansin finish in the Western Archrib shop prior to shipment not only ensured proper preparation and adequate product coverage (mil thickness), it also protected the members in transit and in situ during construction. Prefinishing ahead of field acclimatizing helped reduce "checks" or newly opened surfaces as the wood settled. Per the specification, a final coat of Sansin's Precision Coat ENS was applied at the track and field site allowing an opportunity to spot-finish any newly opened surfaces prior to applying the final coats over the entire surface.
Why Sansin?
There were numerous factors that contributed to the selection of Sansin, including the company's professional and knowledgeable support team, its success with transparent wood coatings on previous projects, the durability of the coatings for an extended maintenance cycle, and the flexibility of the application process.
"Sansin was the ideal partner because they were able to accommodate the numerous color choices and products that could work well for the demanding exterior environment this wood would experience," says senior manager of projects and technical services at Western Archrib. "Another important factor is that Sansin could provide long-term maintenance support for the client with a unique proactive aftercare program (called Sansin Care)."
About Sansin
For more than 35 years, Sansin has been the only wood protection company focused exclusively on researching and developing environmentally-friendly, water-borne interior and exterior wood products and technologies that deliver outstanding color, durability and performance without the toxicity found in conventional stains. Sansin wood treatments, finishes and preservatives use water, not petroleum solvents, to deeply penetrate and protect wood naturally, from within.
Headquartered in Ontario, Canada, Sansin has offices in the Netherlands and Rhode Island and dealer locations in Canada, the U.S., Europe and Australasia. To learn more about The Sansin Corporation, or how to become a Sansin preferred dealer, visit www.sansin.com.
SHARE:



PRODUCTS USED IN THIS CASE STUDY
---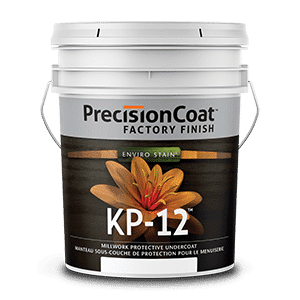 Precision Coat KP-12
Adaptable wood protection for industrial applications.
Dramatically improves topcoat performance for timbers, dimensional laminated lumber and engineered wood, while also protecting wood during construction. Can be used as the first coat of an architectural coating system.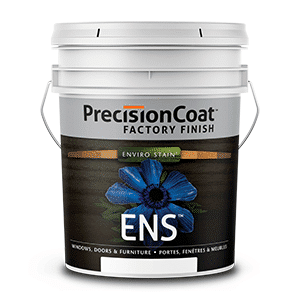 Precision Coat ENS
A beautiful premium finish with exceptional adhesion.
ENS is a tough, durable satin two-coat finish that can be applied to virtually any surface – from millwork, to siding, to decks and even to improve the performance of other coatings.