Canada House Convention Centre Protected with Sansin Classic 1-2-3
A stunning convention centre in Ontario features massive logs and is protected inside and out with Sansin.
FACT #1
TIMBER-TEC M-30 – PROTECTS FROM UV, STAINING, DISCOLORATION.
FACT #2
CLASSIC 1-2-3 – DURABLE, NATURAL-LOOKING FINISH.
FACT #3
PURITY INTERIOR FLOOR GYMNASIUM-GRADE PROTECTION. SELECTED FOR ITS BEAUTY AND WOOD WARMTH.

Canada House is a 34,000-square foot log facility – the largest log convention centre in the world – that references the history of log construction in the Georgian Bay Region of Ontario. The convention centre is nestled in the pink granite of the La Cloche Mountain range that embraces the charming, historic town of Killarney. Canada House is an addition to the Killarney Mountain Lodge and serves to create a 12-month revenue stream, allowing the formerly seasonal resort to stay open year-round.
The grand facility – which was custom built to a 200-year standard – offers eight meeting rooms, two banquet halls with a combined capacity of 370, a state-of-the-art fitness centre, a Ranch House fine-dining restaurant, and a variety of configuration options.
Showcasing Local Wood
The owner was dedicated to utilizing the talents of local experts as much as possible and to sourcing the majority of the materials locally. The logs – the showcase of the structure – were required to be at least 18" in diameter with some as big as 24" in diameter.
To pay homage to the First Nations history in and around Killarney, the owner worked with log crews in the Wikwemikong Unceded Indian Reserve to harvest over 170 tons of white pine logs for the project, ensuring the people of Wikwemikong became part of the history of the building. The remaining logs were sourced from Quebec. Structural wood – Douglas Fir timbers for posts and beams – came from British Columbia, a trek of more than 3,000 kilometers.
Great care was taken to prepare the logs for construction. The logs were stripped of bark and seasoned for several weeks before being hand-shaped with a draw knife. Then, they were pre-assembled at the builder's yard in a process that included tagging, numbering and disassembling the logs. Finally, the tagged logs were trucked to the construction site and assembled in what came to be referred to as a "ballet of cranes."
Why Sansin?
The owner put as much care into selecting the coating system for the wood as he did into sourcing the logs themselves. Canada House needed a sustainable finish that provided not only superior protection, but also the right aesthetics. Selecting finishes that were easy to maintain for years to come was also paramount to the decision to coat the wood with Sansin.
SHARE:



PRODUCTS USED IN THIS CASE STUDY
---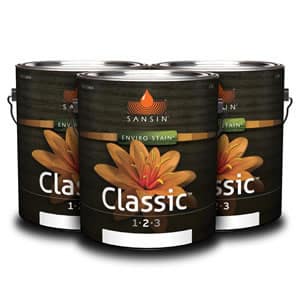 Classic System
High-performance penetrating system for log homes.
Penetrating environmentally-friendly three-coat system designed for big timber and logs in exterior applications.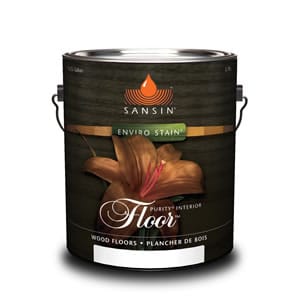 Purity Floor
Ultra-tough gymnasium grade protection for floors.
Easy to apply, and durable, chemical- and scratch-resistant, Floor is the ultimate in beauty and protection for wood floors of all kinds.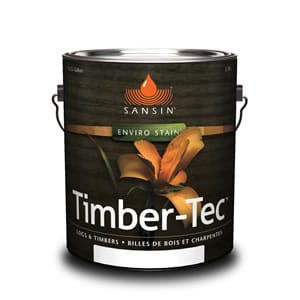 Timber-Tec
Industrial-strength wood treatment for in-yard protection.
Protects against surface discoloration and weathering. Repels moisture and allows wood to breathe. Can be applied to both green and seasoned timbers.