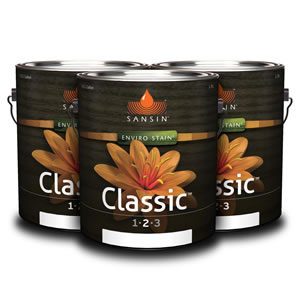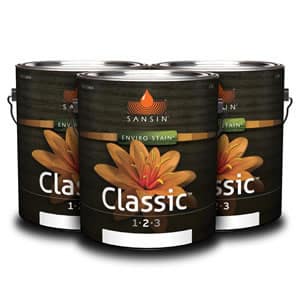 CLASSIC 1·2·3
Sansin Classic 1·2·3: Specially engineered for log and timber-frame structures.
High-performance penetrating system for logs and timbers.
Classic and Classic 123 work well on large timbers and log homes – easily maintained, it can keep wood beautiful literally for decades. This matte, three-coat penetrating formula not only enhances the natural beauty of wood, it also allows it to breathe. A log home requires more than protection from sun and rain – the sheer size of the wood demands a coating that "breathes" freely to prevent moisture from getting trapped and rotting the log from within.
Not surprisingly, Classic works just as well on other exterior vertical surfaces, like shakes, shingles, siding and fences. Whatever the application, your wood will be protected with a UV and water-repellent shield of lasting and remarkable beauty. Classic is easy to apply – with simple soap and water clean-up – and easy to maintain. And, unlike other coatings, it doesn't darken over time. Simply apply a maintenance coat of Classic 3 to protect and maintain a perfect finish.

Because it uses water to carry modified natural oils deep into the logs, Sansin Classic can be applied even to wood with a high moisture content – particularly useful for log homes where moisture levels of up to 21% are common. By comparison, most water- and solvent-based coatings can only be applied to surfaces with moisture content conditions of 18% or less and once applied, are more likely to trap moisture deep within the logs.
If you're looking for the absolute best in log home and big timber coatings, the Sansin Classic system provides a no film build solution that helps maintain a low equilibrium wood moisture content.
CLASSIC 1: Sansin Classic 1 is the first coat in the Sansin Classic system when natural wood tones or translucent colors are desired.
CLASSIC 2: Sansin Classic 2 is the intermediate coat in the Classic system for naturals wood tones and translucent colors, or the first coat for Saturated or Ultra-Saturated colors.
CLASSIC 3: Sansin Classic 3 is a tintable, final coat in the Sansin Classic system – can be used as the maintenance coat.
CLASSIC NATURALS TOP COAT: Low lustre, universal coat for Naturals Wood Tones.
RELATED PRODUCTS: SDF | FOUNDATION | ENS
PHOTO GALLERY
---