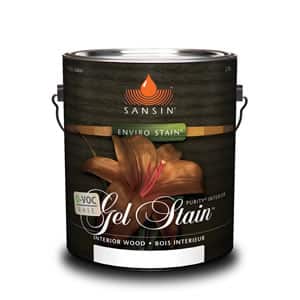 PURITY 0-VOC GEL STAIN
Sansin Purity 0-VOC Gel Stain: Penetrating gel stain for wood interiors.
Beautiful Ultra Low VOC penetrating gel stain for wood interiors.
Purity Interior Gel Stain offers all the beauty and color of Purity Interior Stain – but features longer working time and when convenient, the ability to "wipe" for additional color control so you can highlight grain and tone precisely. Ideal for smaller projects.
Many interior coatings contain harsh solvents that release highly toxic fumes – known as VOCs, or Volatile Organic Compounds – into the air long after application. Purity Interior 0-VOC Gel Stain Base uses only nature's own solvent, water. Application is simple and trouble-free, with no unsightly splatter or brush-marks.
Purity Interior Gel Stain is UV resistant, fast drying, washable and non-flammable with easy soap and water clean-up. For a topcoat, Purity Floor, Glacier or Clear formulas will deliver a beautiful finish.