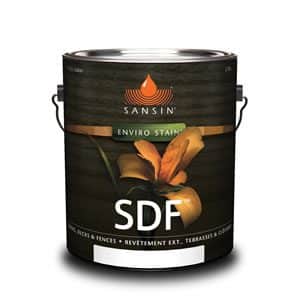 SDF TOPCOAT
Sansin SDF Top Coat: Enhanced protection offering a satin finish.
Durable topcoat to build a low lustre, natural finish
Sansin SDF Topcoat is a highly protective, exceptionally durable top-coat system that can be applied to any SDF base coat system including SDF Foundation for a fuller, satin-like finish – for substrates including siding, soffits, decks, logs, and timbers. SDF Topcoat is highly durable against moisture and weathering and is available in four tintable bases.
It is UV stable, water-repellent, low in VOC's, and non-flammable with easy soap and water cleanup. SDF Topcoat will not crack, peel, or blister. Maintenance applications can be planned every four to six years on vertical surfaces depending on the number of coats applied.
RELATED PRODUCTS: SDF
photo gallery
---