Sustainability was a special point of focus for these office villas composed of broad strips of laminated wood. The wooden sections are made of durable Accoya® wood and attached with coach screws that are left exposed.
FACT #1
DURABLE ACCOYA WOOD
FACT #2
SDF ALLOWS WOOD TO BREATHE
FACT #3
PROVIDES EXCELLENT
COLOR STABILITY
FACT #3
HISTORY OF LOW
VOC PERFORMANCE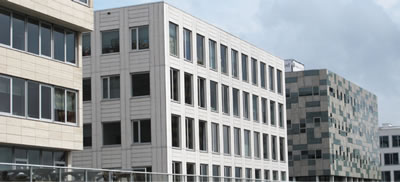 Three wood design office villas in Rotterdam's Brainpark — known as V1, V2 and V3—creatively fit the landscape to provide maximum performance and a unique user experience. Careful attention to the materials and functionality of these buildings, which are used as administrative, commercial and protective facilities, give new meaning to how one thinks of office space. This innovative approach has made them an ideal place for tenants, including the Netherlands headquarters of travel giant Sunweb and project development firm, Proper-Stok.
Design with Durable Accoya
Designed by Mei Architects of Rotterdam, the villas create a powerful first impression. With a striking design concept, they transform the utilitarian nature of a parking garage by locating the entrance through the parking areas (beneath the building) where the lobby and cafeteria are also located. The quality of the interior finish of the parking garage presents a signature calling card for the tenant company.
While designed together, each villa was built with its own distinctive façade. V2 has cladding of very wide laminated wood parts made of durable Accoya wood which are attached with lag screws left exposed. When introduced in 2008, Accoya wood was the recipient of the annual Dutch National Award for Innovation, "The Columbus Egg," for the most innovative sustainable invention.
Penetrating, low VOC protection – designed for machine application
The villas' Accoya wood exteriors have kept their unique white appearance by using Sansin Precision Coat SDF (a wood coating formulated for factory finishing). Rated by siding manufacturers as one of the best natural finishes available, Precision Coat SDF penetrates into the Accoya wood, providing outstanding weather and UV protection in a wide range of natural, semi-transparent, as well as solid colors. Its water-borne technology provides complete protection of Accoya.
SHARE:



PRODUCTS USED IN THIS CASE STUDY
---
SDF Topcoat
Enhanced protection in either clear or solid color.
For additional protection, top coat with this clear base tinted to your project specifications. Enhances base coats with a more saturated, finish in either clear or solid color formulas.